ST. LOUIS — Flu cases continue to spike across the St. Louis region, placing major stress on hospitals that are already at or near capacity.
"It's posing significant challenges to ensure we can care for everyone in the community," warned a report Wednesday by a task force of St. Louis-area hospitals.
While cases of respiratory syncytial virus that overwhelmed local hospitals in October have been dropping, they're being replaced by a flu season that is coming fast and furious.
At Barnes-Jewish Hospital in St. Louis, about 20 to 40 patients a day are coming to the emergency department with flu-like symptoms, and 10 to 20 are having to be admitted with flu, said Dr. Robert Poirier, a Washington University physician who serves as the emergency department's clinical director.
"We are seeing twice as many patients this week than we saw the previous week, and last week it was also double" the previous week, Poirier said Wednesday. "We are starting this year with a bang."
The challenge is, Poirier said, is that the hospital is full along with the emergency department, which drives up waiting times as well as limits the ability to transfer patients to higher levels of care.
Many patients also can't be moved out of the hospital, because of workforce challenges facing nursing homes, rehabilitation facilities and home health services.
"It backs up the whole system," he said.
The flu season so far appears to be the worst since 2010 and 2011. Flu cases typically begin a steep climb in December and January, but this season is seeing an unusual jump in October and November.
During the week of Nov. 19, the latest data available, Missouri reported nearly 4,900 laboratory-confirmed cases of flu — almost double the number from two weeks prior and already surpassing last year's peak that came in late December.
So far this season through Nov. 19, Missouri has reported nearly 13,700 cases and three flu-related deaths, according to state health department data. The highest rates of flu cases and hospital visits have been among children younger than 4 years old.
Dr. Rachel Orscheln, a Washington University infectious disease specialist at St. Louis Children's Hospital, said pediatric doctors are already seeing high numbers of children hospitalized for flu.
"We are way above the peak of prior years for cases; and for hospitalizations, we are a little above the peak of prior years already," Orscheln said.
With no signs of cases leveling off, she said, "I imagine the level of hospitalizations is going to continue to climb."
The rising numbers of flu cases have pushed Missouri into the "high" level of spread category on the US Centers for Disease Control and Prevention flu map.
Nationwide, there have been at least 6.2 million illnesses, 53,000 hospitalizations and 2,900 deaths from flu, according to the CDC.
Hospital and public health leaders say they do not know how high the numbers will climb. And while COVID-19 cases and hospitalizations have remained steady over the past few months, that could also change and stress hospital capacity.
During the week leading up to Nov. 27, an average of 770 people a day were hospitalized with COVID-19 across Missouri, state data shows. Over the past two months, about 20 to 50 Missourians have died each week from COVID-19.
"Because of holiday gatherings and other indoor activity, we anticipate more cases of RSV, COVID-19 and other respiratory infections," the St. Louis County Department of Public Health said in a warning issued Wednesday. "It is important that we do all we can to prevent the spread of disease."
Doctors urged anyone over 6 months of age to get the flu vaccine, which is a good match against the strains that are circulating, and get an updated COVID-19 booster.
COVID-19 vaccinations are offered weekdays at the John C. Murphy Health Center in Berkeley, the South County Health Center in Sunset Hills and the North Central Community Health Center in Jennings from 8:30 am to 4:30 pm Flu shots are available at the three health centers from 8:30 am to 10:30 am and 1 pm to 3 pm
Also, avoid trips to emergency departments, health officials said.
Those with mild to moderate cold-like symptoms can call their primary care doctor, use telehealth services offered by insurance or visit an urgent care.
Trips to the emergency room should be reserved for those with difficulty breathing, sudden dizziness, severe vomiting, dehydration, high fever or fever higher than 100.4 for infants younger than 8 weeks.
"We are overloaded," Poirier said, "and if you have mild symptoms you're going to wait a long time to be seen because we are busy treating those who are sicker."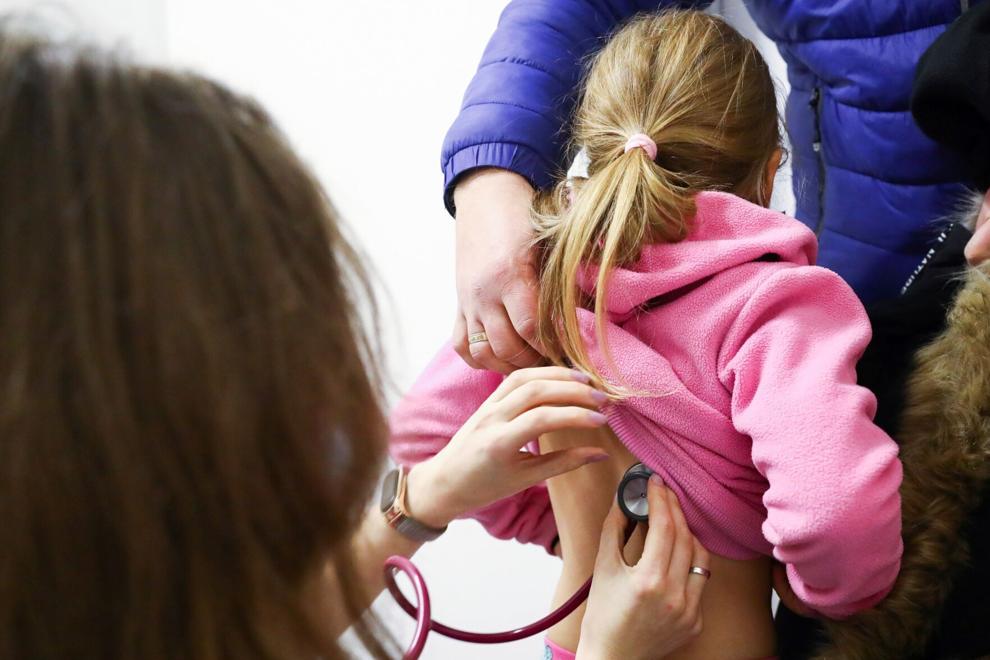 .